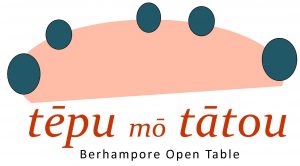 Island Bay Presbyterian congregation seeks to take the way of Jesus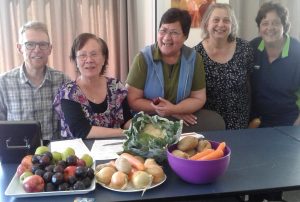 into the wider community. Tēpu mō Tātou (literally: table for us all) is our project in Berhampore. Its focus is food and the social housing communities.
Our work is made possible through funding from
Presbytery Central

Wellington City Council
Tindall Foundation
In 2016 we employed a Community Minister, Bruce Hamill, who works in a team from the congregation to find ways of being with, supporting and learning from those in the community, who, for many and complex reasons, are disadvantaged and know what it's like to struggle against the odds. In 2019 we commissioned a Family Ministry Enabler, Maria Cross, to work in Berhampore, particularly with families and children.
Granville Flats, Berhampore

We work with tenants and Wellington City Council to open up the Community Room more often and build community life. We spend a lot of time at the flats supporting people in times of crisis.  We share a soup lunch once a week in the Community Room (soup provided by the congregation, baking from BGI and a generous Wellington business). We support a tenant-lead cooking class. We support a tenant-lead 'Fixery' where residents get advice and tools to fix a range of everyday items. We provide funds for people to transition to vaporisers and reduce the cost of smokes. We have a team of volunteers who (supported by tenant leaders – Kaitiaki) bring Kaibosh (food that would otherwise be wasted) every Saturday evening and hold regular community barbecues to create a festive atmosphere in the flats (especially in the summer).
The Berhampore Fruit and Vege Co-op
We've established a fresh food co-op in Berhampore in response to the fact that for many people, affording transport to a market, on top of the cost of produce, is challenging. It happens every Tuesday.
Three pick-up points: Granville Flats (559 Adelaide Rd) – 11.30 till 1pm; Centennial Flats Community Centre (493 Adelaide Rd) – 1.30-3pm; and Rintoul St Flats Community Room (263 Rintoul St) – 4-6pm. Please register first. Orders can also be made online (and pre-paid) by 5pm on the Thursday prior to Tuesday's collection. Banking details are on the registration form.
The Berhampore co-op is a branch of the Eastern Suburbs Fruit and Vege Co-op based in St Aidan's Anglican Church,  a hub for a joint venture between Wesley Community Action, Regional Public Health and M.E. Transport Ltd.
Members of the congregation pack and transport the fruit and veges from Miramar to Berhampore. There, Bruce, Maria and the team take payments for the following week and give out ordered bags.
Every so often the Co-op offers regular and free 8-week cooking courses ("Kai Confidence"). It is very popular! It aims to help those lacking confidence in cooking to be creative using the weekly order. Food is provided and everyone eats together afterwards.
Rintoul Street Flats, Berhampore

In 2019 we began to distribute Kaibosh to Rintoul Street Flats each Monday. This is rostered around a small team including the Community Minister. The Fruit and Vege Coop pick up (at the Community Room) is our second point of contact with this community. At Rintoul Street we work closely with the Berhampoare Urban Vision Team, established in 2019. They're a team of people living in intentional community for the purpose of practising hospitality. One of their leaders is our Family Ministry Enabler, Maria Cross. The team has already organised some very successful events for children and families. Along with them we are focused on finding ways to support children, youth and families in the social housing community.
If you would like to be involved with us through the week, please contact Bruce Hamill at 027 2756041.