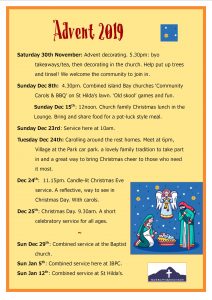 ~ Connecting people with God and each Other ~
Welcome to Island Bay Presbyterian Church. We are a community of pilgrims seeking to love and support one another and our wider community as we journey through life.
As a Presbyterian church we are oriented towards the God of the Bible, who is made known to us most fully in Jesus Christ, who calls us to follow in the way of Christ, and who dwells in us through the presence of the Holy Spirit.
10am Sunday Services:
December:
Sunday 8th:    Nathan preaching, Band playing – the Queen's Badge recipients from the Girls and Boys Brigades (nationally) will be joining us.
Sunday 15th:    Sunday Club (children) leading, Band playing, followed by church family Christmas lunch.
Sunday 22nd:    Nathan leading, Ensemble playing, short family carol service
Sunday 29th:    10am combined service at the Wellington South Baptist Church
Sunday Jan 5th:    Nathan leading as we host a combined church service here at IBPC.
Sunday 12th:    10am combined at St Hilda's
Sunday 19th:    Bruce leading and Band playing, (normal services resume)
Sunday 26th:    Preacher sought, Ensemble playing
Come and join us at 88 The Parade, Island Bay, Wellington, at 10am each Sunday.
Check our Facebook page for the most up to date notices and announcements!  Sermons