Alongside our extensive outreach to children and families in Island Bay (outlined elsewhere on this site) we have a major outreach focus called Tēpu mō Tātou: Berhampore Open Table. It is all about food and our relationship to the social housing flats of Berhampore. Our Community Minister and a team of us are committed to spending time with and supporting the communities in our neighbouring social housing complexes.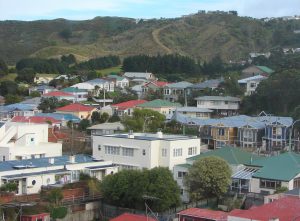 We are heavily involved with Granville Flats and to a lesser, but growing, extent with Rintoul Street Flats. Tēpu mō Tātou means 'table for all of us' and we provide and share meals every week. We distribute Kaibosh in both complexes. We support people in the struggle with mental health issues and addiction, and generally support tenants and the City Council in building up the community life.
Alongside this we bring affordable fruit and vegetables to Berhampore and to the flats by running the Berhampore Fruit and Vege Coop as a distribution branch of the Eastern Suburbs Fruit and Vege Coop
Our Tēpu mō Tātou outreach works closely with our Family Ministry Enabler, Maria Cross, and also with the Urban Vision missional community in Berhampore. Their focus on the moment is on supporting parents and children and and around Rintoul Street Flats.