Island B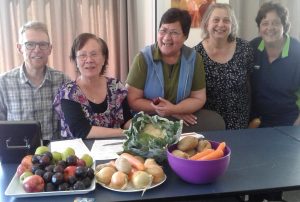 ay Presbyterian Congregation seeks to take the way of Jesus into the wider community in a range of ways.
This has been augmented in 2017 by the creation of the Nordmeyer Garden next to the church.
A new ministry, started in 2016, focuses particularly on the suburb of Berhampore. Our Community Minister, Bruce and CMAG (Community Ministry Action Group), works with the whole congregation to engage with the people of Berhampore. Providing space for pastoral conversation ("Keep calm and have a cuppa"), The Free Lunch in Granville Flat (559 Adelaide Rd),  Berhampore Fruit and Vege Co-op. Kaibosh delivery and support.
"Keep Calm and Have a Cuppa"
This is for residents of Granville Flats. Every Monday at 3pm, meet in the community room for a relaxed cup of coffee or tea with our community Minister Bruce. It is the basis of a wide range of pastoral support. We help people reduce their smoking and related costs through assisting the transition to vaporisers. We build friendship and engage in advocacy.
The Free Lunch
The lunch is a place to share food and friendship.  Lunch is in the Granville Flats Community Room at 559 Adelaide Rd from 12 – 1pm every Tuesday and all are welcome. The food is simple; we usually eat soup cooked by the church congregation, along with bread and baking provided by the Boys and Girls Institute and a generous local business. Soup is often made from produce collected by Kaibosh. The team includes Granville Flats residents as well as church members.
The Berhampore Fruit and Vege Co-op

We've established a fresh food co-op in Berhampore. It happens every Tuesday. For many people, affording transport to a market, on top of the cost of produce, is challenging. To make fresh fruit and vegetables affordable the congregation has established this co-op.
There are three pick-up points: Granville Flats (559 Adelaide Rd) from 11.30 till 1pm; Centennial Flats Community Centre (493 Adelaide Rd) from 1.30-3pm; and Rintoul St Flats Community Room (263 Rintoul St) from 4-6pm. Please register first. Orders can also be made online (and pre-paid) by 5pm on the Thursday prior to Tuesday's collection. Banking details are on the registration form.
The Berhampore co-op is a branch of the Eastern Suburbs Fruit and Vege Co-op based in St Aidan's Anglican Church, which is, in turn, a hub for a joint venture between Wesley Community Action, Regional Public Health and M.E. Transport Ltd.
Members of the congregation pack and transport the fruit and veges from Miramar to Berhampore. There, Bruce, Maria and the team take payments for the following week and give out ordered bags.
The Co-op offers regular and free 8-week cooking courses ("Kai Confidence") every Tuesday between 4 and 6pm at Rintoul St Flats. It is very popular! It aims to help those lacking confidence in cooking to build creativity in using the weekly order. Food is provided and everyone eats together afterwards.
Kaibosh
Kaibosh is a lcoal organisation that takes food that might otherwise be wasted, and makes it available to charitable organisations. A team of five church members (including the Community Minister) deliver and distribute Kaibosh food at Granville Flats with the help and support of the Kaitiaki (tenant leaders). Over the summer period we are sponsor and supporting a bbq at the time of Kaibosh distribution to create a summer festive atmosphere and build community. We also support the residents of Rintoul St Flats who make Kaibosh food available there also.