Boys' Brigade is today's youth movement! And we are the '30th Wellington Boys Brigade Company'.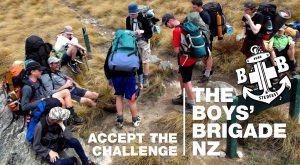 At Boys' Brigade your boy will enjoy fun-filled weekly activities within a balanced programme that is skills and values based. Our leaders are positive role models, chosen because of their life-coaching abilities and skills working with young people.
Boys Brigade is an integral part of the life of Island Bay Presbyterian, with the leaders all being members of the congregation and many of the boys also. Minister Nathan is the chaplain to the Brigades and a Brigades service is held each year. Boys Brigade also provides a uniquely Christian youth setting with Christian Education badges offered bi-annually.
When do we meet?
"Team Section", for boys 8+, meets at 6.30pm on Thursday evenings during term time in the church hall.
"Company Section", for boys 11 – 18, years meets at 7pm at the same place. (The groups are designed to overlap to enable support and role modelling.)
"ICONZ" is for boys aged 5 to 8 (school years 1-3), and we meet at St Hilda's Church, 311 The Parade, Thursdays 3.30 – 5pm. Contact leader Brenda on 021 1378 062.
All boys get to try a range of outdoor activities, games and participate in learning sessions.
Older boys organise their own camps and participate in the National Leadership Camp and Young New Zealanders Challenge (formerly called Duke of Edinburgh). This year sees them out tramping, cycling, kayaking and water skiing – all in one weekend!
For more info contact Irene McLachlan on binds.mclachlan@gmail.com.  Check out www.bb.org.nz for more info on the BB values and organisation.